In February 2020 the Valley View Seventh-day Adventist Church voted in business session to adopt a budget for 2020. The approved annual budget includes unrestricted local church offerings of $157,160 or $13,096 per month. This budget is what we use to operate our church – everything from local staff salaries to basic operational expenses to, most importantly, different ministries of our church like supporting Cascade Christian Academy with subsidy and student aid.
The graph below shows how things currently look YTD through November for Valley View's local church budget. Your generous contributions are helping us catch up from the low contributions at the beginning of the year. As of November 30, we are still a little over $13,000 YTD behind for budgeted giving. Thank you for your continued generosity in December as we work together to catch up on our budget!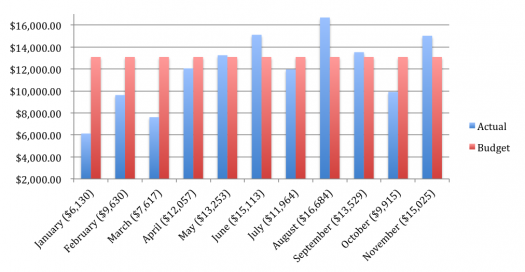 Monthly finance reports are available for church members through our Treasurer, Cheryl Shackelford.
You can give online!
Thanks to the North American Division, you can give online through Adventist Giving with NO fees charged to the church. That means that 100% of your online contribution goes directly to the local church ministries you've specified! Click here to give online now. You can also download the Adventist Giving app from the App Store or Google Play and safely give your donations through it.
Did you know…? The "loose offering" – money you put in the offering basket not in an envelope – never goes to tithe and doesn't even go to the local church budget every week. Some weeks those offerings are designated for other ministries such as ADRA, Christian Record Services, Adventist World Radio, or the Upper Columbia Conference. While those are important ministries to support, your local church still needs you to regularly give to the church budget so we can continue to operate smoothly. You can do that by using a giving envelope from the church and mark your giving for the area you wish to support. To give tithe, you need to use one of those envelopes or give online and mark your giving appropriately so our church treasurer will know what to do with it.
Have you ever wondered what the difference is between tithe and local church budget is? Here's some helpful information that may make that clearer for you.
Tithe – The practice of the Seventh-day Adventist Church, found in Scripture, is that each member gives 10% of their income towards tithe. This amount, given through the local church, goes directly to the conference (in our area, the Upper Columbia Conference). Most of that money, about 75%, actually benefits the local church through the conference with pastors' salaries/benefits, evangelism funding, school funding, and other ministries in the conference that benefit the local church. The other 25% is sent to the North Pacific Union, other small conferences within NPUC, the North American Division, and the General Conference.
Local Church Budget – It is suggested that each member of the local church give 3-5% of their income to the local church budget. This is the only money given to fund the operating and ministry expenses of the church. Our operations include taking care of our facility, salaries for our locally hired staff, training and appreciating volunteers, office needs, and several other things. Our ministries include subsidy and student aid for Cascade Christian Academy, Kids and Adult Sabbath Schools, Outreach and Evangelism, Family Life Ministries, and mor